Marker blog
Posted by admin at 9:00AM on 9/26/2012 with tags:
Alliance AutoGas, alternative fuel, alternative fuel conversion, alternative fuel technologies, alternative fuel vehicles, autogas, CNG, fleets, natural gas vehicles, propane, propane autogas, roush
The federal government is focusing on achieving higher fuel efficiency vehicle technology by implementing new CAFE standards that will nearly double vehicle fuel economy to 54.5 miles per gallon by the year 2025. While the new standards make exceptions for certain alternative fuel applications, propane autogas vehicles were overlooked. However, there's already a movement among our nation's fleets–the small businesses, law enforcement agencies, municipalities and transportation services out there–to adopt this clean, American-made fuel that's affordable to implement and ready to use, today.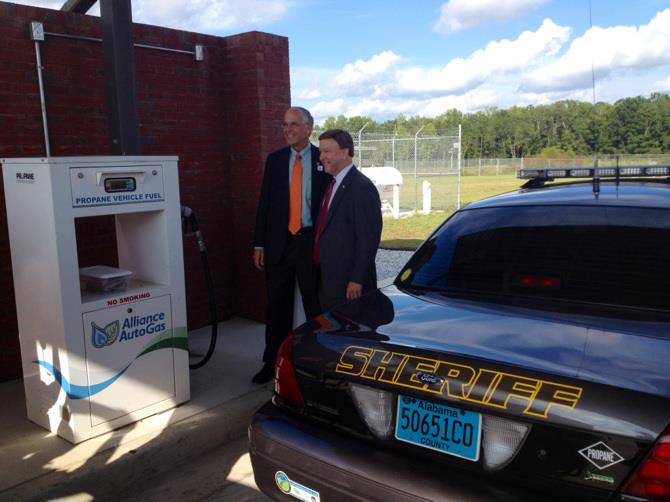 Propane autogas is gaining momentum with American fleets because it's the most practical and cost-effective clean fuel on the market. Not only can autogas stations be implemented for a fraction of the expense of other alternative fuel infrastructure, they can also be built quickly and at no upfront cost to fleets. Autogas has averaged $1.45 less per gallon than gasoline over the past five years.
Proponents of other alternative fuels lobby the government for support to make their clean fuel technology viable, while thousands of fleet vehicles across the country are already saving money on fuel costs, and achieving a faster ROI, by converting to autogas.
Recent examples of U.S. autogas market growth include:
Despite autogas being the most cost-effective, easy-to-implement clean fuel, the popularity and government favoritism of CNG will remain an obstacle. According to a recent report from Pike Research, "even though [CNG] fuel is much more difficult (and more expensive) to handle than autogas, it looks as if CNG will attract the majority of the incentives from many governments around the world." But whether or not natural gas lobbyists achieve continued favoritism among legislators, propane autogas will always have an advantage as the only practical clean fuel that fleets can already affordably adopt.
The bottom line is, the federal government may be ignoring the most viable alternative fuel on the market, but America's fleets certainly aren't.
If you liked this post, you might also like these posts: