Marker blog
With the introduction of the Chevy Volt and the Nissan Leaf to the consumer market this year, electric vehicle (EV) manufacturers have ramped up advertising campaigns claiming these vehicles produce "zero emissions." Nissan started with its Polar Bear ads, featuring a morose polar bear wandering away from its melting arctic habitat, winding up at the home of a Leaf owner, giving him a hug for going green.
The automaker even created a website named "Nissan – Zero Emission." The image below is among the various rotating headers on the site. Are plug-in EVs really "Zero CO2″ emitters? We'll answer that in a bit.
Next, Nissan asks us to imagine what the world would be like if everything was powered by gasoline. From alarm clocks to iPods to computers, the video shows us how dirty the air around us would become if it wasn't for electricity. Renault, which has four EV models in production in Europe, created a similar ad.
None of these ads or websites makes it clear what actually sources the electricity to charge the car, however. Is it wind? Solar? Natural Gas?
Automakers are trying to define "zero emissions" vehicles as those that produce no "tailpipe emissions" in an effort to brand EVs as the greenest cars on the market. This is only part of the story, unfortunately. The following chart shows which fuels make up the average U.S. electricity grid mix.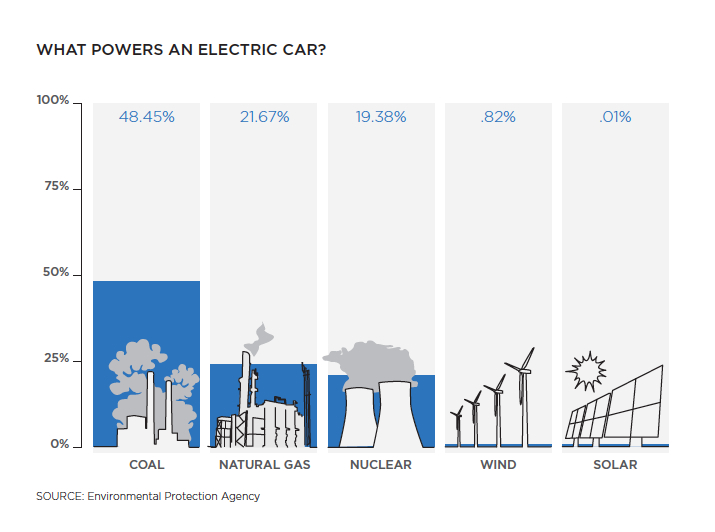 Of course, the fuel mix for any particular region will vary, but this chart represents the average percentage of electricity sources used in America. In fact, according to the EPA, there were 24 states that used coal for 50% or more of their electricity fuel mix as of 2007.
We know we don't have to tell you that an electric vehicle powered 50% by coal obviously isn't a zero emissions vehicle. As more electricity comes from renewable and clean-burning sources like wind or natural gas, then PEVs can move toward becoming the environmental holy grail that manufacturers want them to be.
If you liked this post, you might also like these posts: