Marker blog
Posted by admin at 12:26PM on 8/8/2011 with tags:
battery pack, electric cars, electric vehicle, electric vehicles, EV, EV battery, EV fast charge, EVs, fast charge station, leaf, nissan, nissan leaf, plug in electric, volt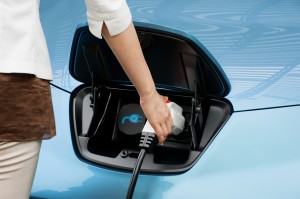 If you fast charge your Nissan Leaf more than once per week, you could see a decrease in your vehicle battery life by several years.
Mark Perry, Nissan's director of product planning, said, "If fast charging is the primary way that a Leaf owner recharges, then the gradual capacity loss is about 10 percent more than 220-volt charging. In other words, it will bring the capacity…closer to 70 percent after 10 years."
The same article also states that an average Lithium-Ion battery cell in an electric cycle has about 1,000 full cycles before it is classified as reaching its "end of life" (EOL).  If you fast charge your Leaf more than twice a week, however, the battery's EOL could arrive much more quickly. Since the lifespan of the battery is determined by a fixed number of charge cycles, more frequent charging effectively 'uses up' battery capabilities more quickly.
According to the industry, a battery has reached its EOL after it has lost 20 percent of its original storage capacity, meaning a charging capacity of 80 percent, which occurs in about 10 years without frequently fast charging an EV.
With all the expenses of electric vehicles (and they seem to be making them more expensive over time), the cost of a replacement battery brings yet another cost into the mix if you want your EV to keep running. In fact, according to a recent British article, it could cost you up to £19,000 to purchase a new battery pack, which would be about $30,645 in U.S. dollars. Indeed, Nissan has stated the production costs for a replacement Leaf battery are around $18,000 – but has declined to say on its website how much a replacement battery would cost the consumer.
And it seems other automotive buffs are questioning the viability of the Leaf's battery. As Daryl Siry wrote in a blog for Wired.com:
"It also appears that Nissan has cut corners on the most critical aspects of electric vehicle technology – the battery pack."
Photo Source: Autogeeze.com
If you liked this post, you might also like these posts: