Marker blog
Posted by admin at 9:30AM on 9/17/2011 with tags:
bev, chevy volt, electric car, electric car fuel efficiency, electric vehicle, EPA, gm, gm volt, PEV, phev, plug in electric, volt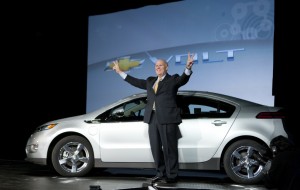 Currently, the car with the best gas mileage reaches about 50 miles a gallon. So, it came as a huge shock to the automotive industry when General Motors announced last year that their new electric-drive Chevy Volt would reach an EPA-rated 230 miles per gallon. But so far, journalists, industry experts and even the EPA are still at a loss to fully explain GM's math.
The Chevrolet Volt is a plug-in hybrid electric vehicle, designed to run on electricity until its battery level drops. After that, a gasoline engine kicks in to power the car. According to GM, the Volt's battery-only range would be about 40 miles, and the gasoline engine would have about 40 mpg.
How did GM reach this inflated figure? According to Motor Trend, GM used a proposed EPA measurement system that converts a vehicle's kilowatt hours (kWh) to an equivalent in miles per gallon. Since GM predicted the Volt would consume 25 kWh per 100 miles, they calculated 230 miles per gallon. The EPA has since shied away from GM's claims, officially rating the Volt at 37 kWh per 100 miles and announcing it had "not tested a Chevy Volt and therefore cannot confirm the fuel economy values claimed by GM."
Journalists questioned the 230 mpg claim because the actual figure can change drastically depending on how the Volt is driven. For instance, CNN predicts that if a driver goes 300 miles with a fully charged battery, the fuel economy would actually be about 62.5 mpg. Edmunds.com found that with the battery depleted the car averaged 31.1 mpg.  Edmunds ultimately called the Volt's performance "seriously subpar when compared to the mid-40s mpg that a standard hybrid typically provides."
Analysts say GM's figures also overlook recharging and initial costs. GM has said 8 kWh are needed to travel 40 miles, which the Department of Energy says will cost around 88 cents per charge. While these costs may appear modest, reviewers like Edmunds.com question the overall value since the Volt is far more expensive than other hybrids.
Ultimately, GM and other EV manufacturers need to justify the high price tag of their vehicles by providing buyers measurable fuel savings and a return on their investment. But, even the CEO of GM has questioned the Volt's lasting value, saying it will be "an old, old technology and old news" in just five years.
PHOTO: GM-Volt.com
If you liked this post, you might also like these posts: